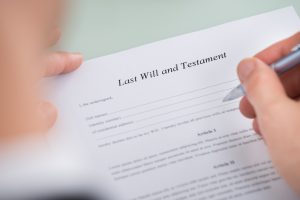 On April 22, 2016, the Music Icon Prince died. Soon after, the Media reported that sources believed Prince had died without a Will. In addition, he was not married at the time of his death and there are no known children. Some individuals mistakenly believe that his Estate would then go to the State of Minnesota. That only happens when there are no heirs at law of an individual. An Heir at Law, according to Black's Law Dictionary, is "he who, after his ancestor dies intestate, (without a Will) has a right to all lands, tenements, and hereditaments which belonged to him or of which he was seized." In other words, all of your possessions. The newspaper has indicated that Prince died with one full sibling named Tyka Nelson and several half siblings. We then know that the Estate will not escheat to the State (pass to the State because there are no heirs) but will in fact go to his full sibling and half siblings. If he had died in New Jersey, his Estate would be distributed equally to his sister of whole blood and siblings of half-blood. Minnesota law is presumably similar.
However, by not having prepared a Will there are two problems. First, there is no Executor to garner the assets and pay the liabilities. Second, there was no estate planning done to minimize Federal and/or Estate Tax Returns. The second problem is now irreversible and whatever the tax implications are – they are. The first issue is more problematic.
As set forth by the Media, Tyka Nelson has requested that a Minnesota Court appoint a Trust Company to temporarily oversee his multi-million dollar Estate. With the preparation of a Will, Prince himself would have appointed a person or persons to do this, someone who he either trusted, like a family member or friend, or someone who had an expertise in this area. Presumably, the Trust Company will have no issue handling the Estate.  As it stands, Prince's Estate will be distributed to his full and half-siblings whether he liked them or not.
Estate planning would have allowed Prince to determine for himself how his money should be distributed upon his death.   Beyond financial considerations, there are other important reasons to have a Will.  If your children are under the age of eighteen (18), you will appoint a Guardian so that your family will not be fighting over who will, or who will not, care for your children. You will also determine the name of the Trustee who will handle the money of your children for their benefit until they reach a certain age, the one in which you think they will be mature enough to handle their money, like 26, 30 or even older. It all depends on your beliefs and the maturity of your children. Lastly, you will determine if your Estate will be distributed equally amongst your children or not. If you are not married, you certainly want to prepare a Will to make sure that the Estate goes to your designees whether you have children or not.
Drafting a Will is often not complicated and can be done by an attorney in a very short period of time. See your attorney today. I am sure Prince never expected his untimely death. Don't take a chance.
About the author: John A. Conte, Jr. is a Partner with Meyerson, Fox, Mancinelli & Conte, P.A. in Montvale, New Jersey.  Mr. Conte concentrates his practice in business law, commercial litigation, real estate and land use law and estate planning.