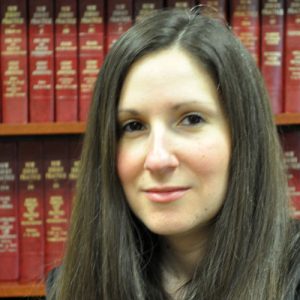 Meyerson, Fox, Mancinelli & Conte, P.A. is pleased to announce that attorney, Beth L. Barnhard, has qualified to become a Certified Elder Law Attorney as recognized by the National Elder Law Foundation (NELF). NELF is the only organization approved by the American Bar Association to offer certification in the area of elder law. The Certification is intended to provide a measure of assurance to the public that the attorney has an in-depth working knowledge of the legal issues that impact the elderly. Beth is now among forty-eight Certified Elder Law Attorneys in the State of New Jersey and only four-hundred Certified Elder Law Attorneys nationally.
NELF's website outlines the criteria for qualifying as a Certified Elder Law Attorney. In order to obtain Certification, an attorney must substantially devote their practice to elder law, pass a full-day certification examination, participated in at least 45 hours of continuing legal education in elder law during the three years preceding their application and submit references from five elder law attorneys. The stringent certification requirements are intended to identify those select attorneys who are uniquely capable of handling elder law matters, such as:
Health and long-term care planning
Public benefits (such as Medicaid, Medicare and Social Security)
Estate Planning, including wills and trusts, Estate Administration
Surrogate decision-making, including powers of attorney and guardianship applications
Establishment of the legal capacity of an older person
Special Needs Planning for disabled individuals, including the preparation of Special Needs trusts and the planning for housing, employment and education needs
Beth has been concentrating her practice in elder and disability law issues since becoming an attorney in 2007. As a Certified Elder Law Attorney, Beth will continue to represent elder law clients with Medicaid applications and administrative Fair Hearings, asset preservation planning, guardianships, protective arrangements, estate planning, estate administration, and estate litigation.
Beth graduated cum laude from Ithaca College, where she received departmental honors in Anthropology. She received a Specialty Certificate in American Sign Language Interpreting from Union County College, and is proficient in American Sign Language. Beth received her law degree from Western New England University School of Law.
Before attending law school, Beth worked as a rehabilitation aide and staff interpreter at a psychiatric vocational rehabilitation center, where she taught work skills and appropriate work behaviors to individuals with severe and persistent mental illness, individuals with developmental disabilities, and those with multiple diagnoses. She also worked as a freelance American Sign Language interpreter for the Deaf and Deaf-Blind. Beth received training as a Support Service Provider for the Deaf-Blind, from the Commission of the Blind and Visually Impaired and the Helen Keller National Center
Beth is licensed to practice law in New Jersey and New York. Beth is currently serving as the roundtable coordinator of the Elder & Disability law section of the New Jersey State Bar Association and as vice-president of the New Jersey chapter of the National Academy of Elder Law Attorneys.