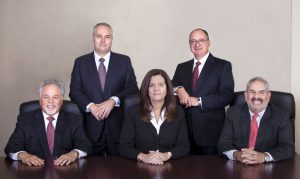 (201) Magazine has released its annual listing of Bergen County's Top Lawyers. Meyerson, Fox, Mancinelli & Conte, P.A. is proud to announce that seven of the firm's attorneys were selected as Top Attorneys for 2016.  Among the honorees were Partners, Anne M. Fox, Steven R. Rubenstein, Lawrence N. Meyerson, Robert J. Mancinelli, John A. Conte, Jr. and Carol A. Hawk and Associate, Brian E. Shea.  Ms. Fox, Mr. Rubenstein and Mr. Shea were selected as Top Lawyers in Matrimonial and Divorce Law.  Furthermore, Mr. Meyerson and Ms. Hawk were honored for their work in the fields of Trusts and Estates law and Wills and Probate law.  Finally, Mr. Conte was selected as a Top Attorney in Real Estate Law and Mr. Mancinelli was selected for Business, Corporate and Commercial Law as well as for Commercial Litigation.
The list of Top Lawyers in Bergen County was compiled from the results of a peer-review survey, conducted by Professional Research Services (PRS) of Royal Oak, Michigan. According to (201) Magazine's website, "[t]housands of attorneys throughout Bergen County were contacted by PRS and asked who they would recommend within the county in given areas of law."  For more information on the criteria for being selected as a Bergen County Top Lawyer, click here .
Since 1988, Meyerson, Fox, Mancinelli & Conte, P.A. has been serving the legal needs of New Jersey individuals, families and businesses. The firm's philosophy is simple: serve the client by providing the highest quality of legal services.  We service clients in a number of legal areas, including business law, civil mediation, commercial lending, commercial litigation, construction law, divorce and family law, divorce mediation, elder, guardianship and disability law, employment law, Medicaid and asset preservation law, municipal law, personal injury, privacy and Internet law, real estate and land use law, Superstorm Sandy litigation and trust and estate law.